Where to eat in Santorini? It's a good question, even because a holiday is such only if you can taste typical dishes, local products and mouthwatering recipes. Choosing the right dish can be hard, but finding the restaurants which actually cook respecting traditional recipes and have good prices can be even harder.
For this reason, answering to the question "Where to eat in Santorini?" can be more difficult than "Where to stay?", also because visitors will certainly look for the best price, the panoramic view and a number of other services. So let's proceed in order.
Where to eat in Santorini for little money
Considering that most of the time low prices also mean low quality, we will suggest something between, prices that will satisfy both people with refined palate and the frugal ones. Our proposal is the Selene restaurant, a place in Santorini where you can eat without spending much, but at the same time offering mouthwatering and costly options.
The restaurant, not far from the Pyrgos Museum offers two different menus, one with prices between 9-16 Euros and the other, more sophisticated, with prices between 30-40 Euros.
This restaurant also represents a real attraction, with show cooking and menu and wine tasting (the restaurant is located in one of the most famous areas of the island for wine bars). For those who wish to complete the enogastronomic tour, there is also the chance to join the Cultural Village, with exhibitions about the local traditional cuisine and agriculture.
The Selene restaurant does not appear in the Trip Advisor top 10 restaurants in Santorini, probably because the restaurant offers authentic Greek cuisine that not all tourists might appreciate.
Typical dishes in Santorini: from white eggplants to Greek fava recipe
Like in every other island, in Santorini fresh fish is a specialty and cooked in different ways, it's something that must be eaten.
Nevertheless, most of the local dishes are made of local vegetables. White eggplants, capers and cherry tomatoes are some of the local products ever present in Santorini's typical dishes. Another typical recipe is the yellow split peas puree, often served as a starter during happy hours.
Traditionally this dish is served at room temperature as a starter or as a side dish to accompany other meals or second courses. In other words, if during a happy hour you will be served by Greek style meatballs accompanied by fava, no worries, you are honoring Santorini's traditional cuisine.
In the island of love, the typical drink is wine, usually white, dry and sparkling, therefore, not to be missed the wine tastings offered by the number of wine bars around the island.
Where to eat in Perissa: options for all pockets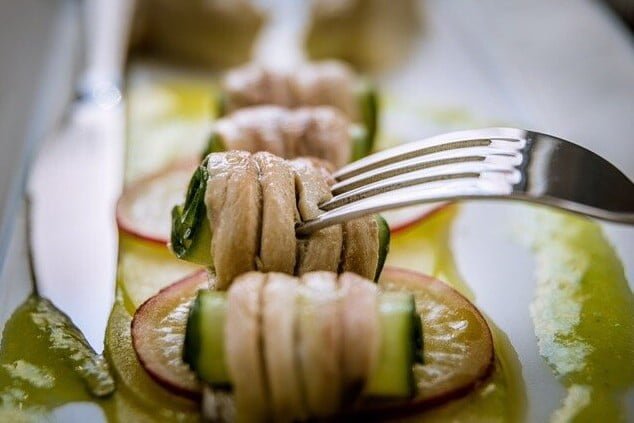 Also Perissa, for those who are staying in this area spending less, offers good restaurants for all pockets.
The Metaxi Mas, for example, is a place, also attended by locals, where you taste the raki, a typical spirit made up of corn and potatoes or grape and plums.
Brusco, offers snacks, quick meals and typical Greek bites, ideal for those who wish to taste a little bit of everything of the Greek cuisine, without eating too much, and where you can try the best Baklava, a typical homemade Greek pastry.
Remaining in the area of Perissa, we also suggest the Atlas Bar Restaurant, which gets inspiration from the culinary philosophy of the previous restaurant, but with some additions: this place offers breakfasts, with an amazing Greek yogurt, and for those who wish to have a break from Greek food, pizza.
Restaurants in Santorini Oia
Laokasti Restaurant (refined and averagely costly)
Krinaki (15-25 Euros per main course)
Nikos Place Gril House (cheap, Greek fast food)
Melitini (in the average, typical specialties, also ideal for vegetarians and vegans)
Kapari Wine Restaurant (sophisticated, expensive, best Mediterranean and Greek cuisine)
Pita Giros (cheap, fast, local dishes)
Karma (10-20 Euros a meal, good prices, typical dishes, pillows and romantic atmosphere)
Skala (averagely cheap, lovely terrace, local products)
1800 (18-35 Euros per main course)
Restaurants in Santorini Fira
Salt&Pepper (average prices, Mediterranean and Greek cuisine, excellent reviews)
V Lounge Cafe Cocktail bar (average prices, Mediterranean and Greek cuisine, also ideal for vegetarians)
Argo Restaurant (well-known for its soups, good value for money)
Theoni's Kitchen (exceptional reviews for its authentic Greek fish cuisine, medium-high prices)
Lucky's Souvlakis (cheap, Greek fast food, good reviews)
Parea Tavern (average prices, ideal for grilled fish and Mediterranean and Greek cuisine)