Santorini has now become one of the most popular destinations in Greece. With its beaches, sunsets on the caldera, and white houses, Santorini is the pearl of the Cyclades.
How can you turn your 2020 holiday in Santorini into a wonderful memory?
Even if it is an island, apart from the beautiful beaches of volcanic origin, there is plenty to see in Santorini.
We suggest you some ideas to take inspiration and organize your Greek holiday in the best way.
Things to do in Santorini in 5 days
When you book a trip you never know the perfect number of days to spend on holiday to fully enjoy the place. Well, visiting Santorini in 5 days could be a good choice.
You should not miss Fira, the most important town on the island, by taking long walks through the narrow streets, surrounded by blue and white houses and gradually discovering the wonderful view of the caldera, just as we are used to see on postcards or photos. Enjoying an afternoon in this beautiful place, doing a tour of the little shops is a must among the things to do in Santorini.
If you are a real lover of walks, in 30 minutes you can reach Imerovigli, the lovely village that represents the highest point of the caldera. Do not forget, then, to bring with you, comfortable shoes!
However, if you want to give a touch of originality and culture to your relaxing holiday, there are 2 museums to visit in Fira
that between archaeology and history will make you discover the island better.
Always in line with ancient history, one of the places to visit in Santorini is certainly Akrotiri, the ancient Minoan city destroyed and buried by the volcanic eruption of 1613 BC, rediscovered in 1967. It is one of the most important archaeological sites in the Aegean Sea. To visit the excavations of Akrotiri there are long wooden footbridges that allow you to observe the remains of the city and ceramics.
Or you can combine a visit to the archaeological site of Thira, on the Mass Vouno hill, among remains from the Hellenic, Byzantine, and Roman periods with the beauty of the surrounding landscape.
Another afternoon of your stay could therefore be dedicated to visiting one of these unbelievable places to see absolutely in Santorini.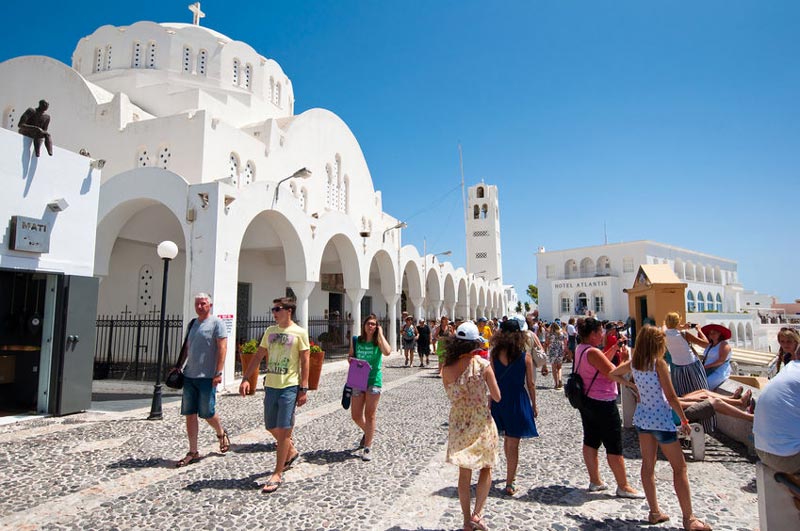 Without a doubt, at least one day should be dedicated to the sea of Santorini, with its crystal-clear waters and beautiful beaches. A boat trip could be interesting, particularly between Red and White beach,
you will be delighted!
To make your holiday active and varied you could enjoy a tour from Fira to Oia, a route of about 9 km well marked and accessible along the edge of the caldera. Without stopping, it is, more or less, a two-hour walk, but stopping to take photos or enjoy the breathtaking view is worth it. Clearly, it can be a bit heavy physically, so it would be better to organize it during the less hot hours.
Visiting Santorini well requires a bit of organization and above all curiosity to find the things you might like most, because there are so many things to do on the island.
The day trips are a good alternative for those who do not have much desire to plan everything well and for those who do not have much time. There are tours that allow you to visit Santorini in less time because they include more stops. For example, a proposal could be a day trip that includes the thermal baths of Néa Kamini, the volcano and the island of Thirassia. This island was separated from Santorini due to an eruption and because of this location is one of the best places to feast your eyes with the view of Santorini.
Finally, another option among the things to do in Santorini is certainly an excursion out of the island to also appreciate the surrounding areas and to discover other sublime although less famous islands. Among these, we recommend Ios, being also the closest and so the easiest to reach.
Things to do in the evening in Santorini
And when evening falls, Santorini increases its charm… do you want to know what to do absolutely in Santorini to spend your evenings on holiday?
First, the sunset in Oia is a must, it will give unforgettable emotions. Probably the ruins of the Byzantine castle are one of the best places to appreciate it, maybe sipping a good drink. One of the most fascinating places on the island.
Another attraction of Santorini is Kamari's outdoor cinema. Sounds weird? It could be an unusual activity, which is rarely done in one's own town, to enjoy a quiet evening as a couple or as a family, together with local people. And then, if the holiday lasts longer than a few days, an original relaxing evening could not be missed.
Generally speaking, to fully enjoy the nightlife in Santorini, Fira is the right choice, as it is one of the ideal places to spend a nice evening, thanks to the wide range of restaurants, bars and clubs.
And why not enjoy a boat or catamaran tour at sunset with dinner included? It is certainly one of the things to do in Santorini to spend a romantic evening and appreciate enchanting places.
So, what to do in Santorini is no longer a dilemma, now you just have to choose what you like the most and organize your 2020 holiday in Greece!
Un'altra attrazione di Santorini è il cinema all'aperto di Kamari. Sembra strano come consiglio? Potrebbe essere un'attività insolita, che di rado si fa nelle proprie città, per godersi una serata tranquilla in coppia o in famiglia, insieme alle persone del posto. E poi, se la vacanza dura più di qualche giorno, una serata relax originale non può mancare.
In generale, però, per godere appieno della vita notturna a Santorini, andare a Fira è la scelta giusta, in quanto risulta uno dei posti ideali per passare una bella serata, grazie alla vasta offerta di ristoranti, bar e locali.
E perché non regalarsi un tour in barca o in catamarano al tramonto con cena inclusa? Di certo è una delle cose da fare assolutamente a Santorini per passare una serata romantica e apprezzare luoghi incantevoli.
Cosa fare a Santorini non è più un dilemma, adesso non ti resta che scegliere ciò che più ti piace e organizzare la tua vacanza 2020 in Grecia!