"Santorini in October, last minute offer:take it or leave it".
You've just read this advertisement and all of a sudden you are filled with doubts?
With this article we will try to remove all your doubts because in October, during low season, Santorini is spectacular.
No chaos, short queues, good prices, mild temperatures, more space to take selfies, empty beaches and warm waters, these are only some of the many reasons why we support our thesis.
Cyclades islands during low season: exploring more spending less
A tourist boom in August while during the fall and the winter a sudden decline: even if local initiatives have been carried out in order to seasonally adjust tourism in the Cyclades, only a small amount of tourists have actually seized the advantage of travelling during low season.
However this is the best way to live Santorini low cost or to explore in peace the other Aegean islands.
Something is changing: as usual, the ones who first noticed the new trend of travelling during low season are the north European tourists, visiting the island of love in October or November, discovering a new paradise.
It's not possible to avoid a comparison with August, when hotels cost a fortune and you have to wait in line just to take a picture at the sunset in Oia.
Why? Well, the reason is most people think that during low season temperatures may not be adequate, and rain and wind might be found.
The inhabitants of the island however describe October as spectacular, with temperatures between 17 and 22 degrees, sunny days and warm waters.
A wedding in Santorini? Only if the weather is mild
Besides the North European tourists, there is another category of tourists that often choses Santorini during low season: Asians, ready to get married.
That's right, the trend of getting married in unique places is gaining ground and Santorini is one of the best places where a dream wedding can be celebrated.
This obviously isn't easy during the summer, when the heat is terrible and you might end up the celebrations being completely sunburned.
This is why most weddings in Santorini are celebrated during low season, in particular in May, September or October, these three months are considered to be ideal for weddings in the island of love.
According to the latest statistics, more than a thousand of weddings have been celebrated in Santorini, of which, an enormous amount are Asians who have chosen the Cyclades islands, considered to be the non plus ultra in terms of romanticism and  elegance.
Santorini during the winter: Christmas dinner with a view on the caldera
As already said, mid-seasons are ideal not only for weddings in the most popular of the Cyclades islands, but also for its exploration; most of the clubs are open, the weather is mild but there isn't the typical crowd existing in July and August.
For those who are willing to dare, an alternative idea is visiting Santorini at Christmas, having dinner with the family, with a view on the Caldera.
The big present that would make everyone happy, restoring the family atmosphere that consumerism and materialism have almost completely eradicated.
If your idea of low season remains close to the months of May, June, October and November, but you're still not completely sure about making a reservation, here below a list of positive aspects that would lead you to a final decision.
10 things you need to do in santorini during low season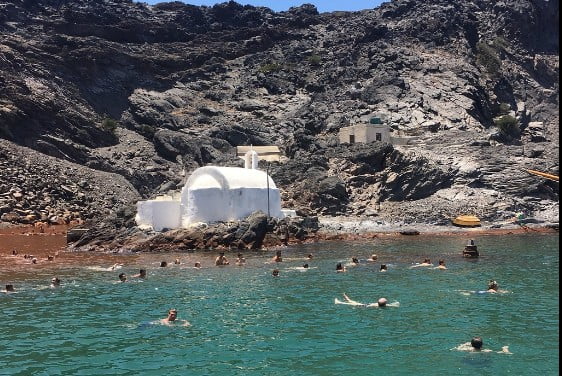 Hot and red: the spas in Palea Kameni are truly refreshing and relaxing during the winter
Booking a hotel with a view on the caldera for half the price
Taking a bath in a heated infinity pool
Looking at the sun set with your partner under soft chenille blankets
Reaching Firostefani and Imerovigli through the path along the caldera without swatting
Taking a bath in the hot red springs of Palea Kameni
Hot tea instead of a spritz: booking a mini cruise at sun set
Deciding last minute to go to Cinekamari, open air cinema, without a reservation
Making a tour in the local wine estates without worrying about getting drunk
Visiting the Tomato Industrial Museum learning the local farmers' old traditions
Renting a car not worrying about the traffic and the wind, which can be a problem if you're on a scooter